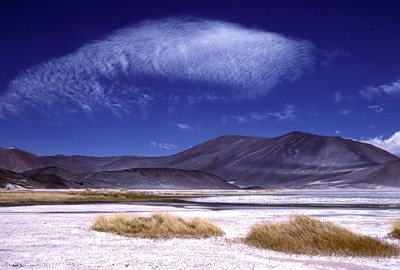 Salt lake in the Atacama desert, Chile - © Geert
Shooting data from Camera Companion: Kodachrome 25 ASA - 1/100s - f8 - 35mm - Aperture priority - matrix metering
Why another F100 shooting data download program?
The idea took shape in May, 2000. We wanted to write an entirely new F100 shooting data download program because we were not satisfied with the alternatives. Judging the feedback we get on the software, it seems we are not the only ones.
What is wrong with the other two?
We are not denying the fact they are both fine programs that have their qualities, but we personally feel they lack a few important things. The major issue was the fact that the data they produce is quite inflexible. The reason being that they both use their own proprietary file format (ouch!). We felt we had to change that radically.
In what way is Camera Companion different?
We leave it up to you to decide if Camera Companion is a better alternative. First of all, we found the others to be too much stand-alone. If you are going to use a program to download shooting data, we guess you did not buy a 1500$ PC just for this sole purpose. You are probably running a word processor too, maybe a spreadsheet or a database. We quickly realized a lot of this commercial software is much better in doing certain tasks (like generating reports, printing labels, archiving data...) than we could ever make a program. That is why we have chosen to save all the data in a Microsoft Access database. Practically, this means that the data you collect suddenly becomes much more flexible to use. You can load the data in Access or any other program that can use Access databases (and there are a lot out there!). Imagine the possibilities! You can present the shooting data better than ever before by making beautiful reports or composing nice layouts for label printing (just to name two examples). But those who don't have Access or compatible software aren't left alone in the dark. Camera Companion DOES come with a nice integrated reportwriter too!
So that is all there is to it?
Surely not! We thought of a few small solutions to things we felt the alternatives lacked. Example: in the camera custom settings dialog you have the opportunity to save and load a complete set of custom settings in one simple preset. A simple idea that makes a big difference!
We did all this but still kept a very small program, with no unnecessary extras. Small is beautiful!
And of course, we kept the price small too.... something you'll probably appreciate even more!