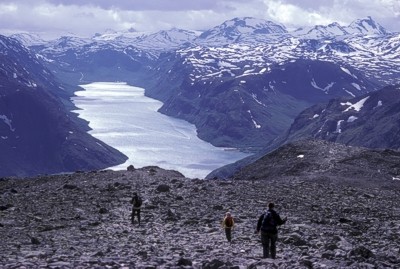 View on Gjende lake and Jotunheimen from Bessegen ridge, Norway - © Geert
Shooting data from Camera Companion: Kodachrome 64 ASA - 1/1000s - f2 - 85mm - Aperture priority - matrix metering
Who are we?
We are two young European guys (yeah right, big continent) with a sincere interest in programming, computers and photography.

Gjert-André from Norway is the one who takes credit for the software.
Geert from Belgium revealed the F100 protocol and constructed the help file and website.
How can we be contacted?
You can contact us at the following email-address:
Who else were involved?
We would like to sincerely thank the following people for beta testing, comments and suggestions!
Wolfgang Klotz from the southern Germany for beta testing
Steve Horne from the USA for beta testing
Marcel Eremia from Rumania for beta testing and for the webpage with description of a home-made communications cable.
James Grove from the UK for beta-testing and help in the implementation of HarTALK-compatibility.
Brooks Gelfand for friendship and support and exotic tomato seeds.